Fireplace Services
Installation, Service, Repair and Maintenance
Installations
Whether you are looking to add a new fire feature to your home or are planning new construction, we can help you find the best fire appliance for your home! We are fireplace and chimney experts with extensive industry knowledge, who will walk you through the new fireplace installation process from beginning to end – coaching you along through your journey.
We carry gas, wood, and electric fireplaces from only the best brands!
Stop by our showroom to meet with our friendly and knowledgeable staff. There you can explore the many options available to you by viewing our burning fireplace displays, including a variety of fuels like gas, wood and electric, as well as a variety of surrounds including stacked stone or ledgestone and mantels.
Click the button below to book your fireplace installation.
Fireplace Maintenance Services
Just like any other appliance you own, your fire appliance needs annual maintenance to keep it running efficiently and safely. No matter if you have a wood-burning fireplace, gas-fueled fireplace, or electric fireplace – Our team of certified pros will help keep your fire appliances safe and working properly. Click the buttons below to learn more about the different kinds of fireplace maintenance services we offer: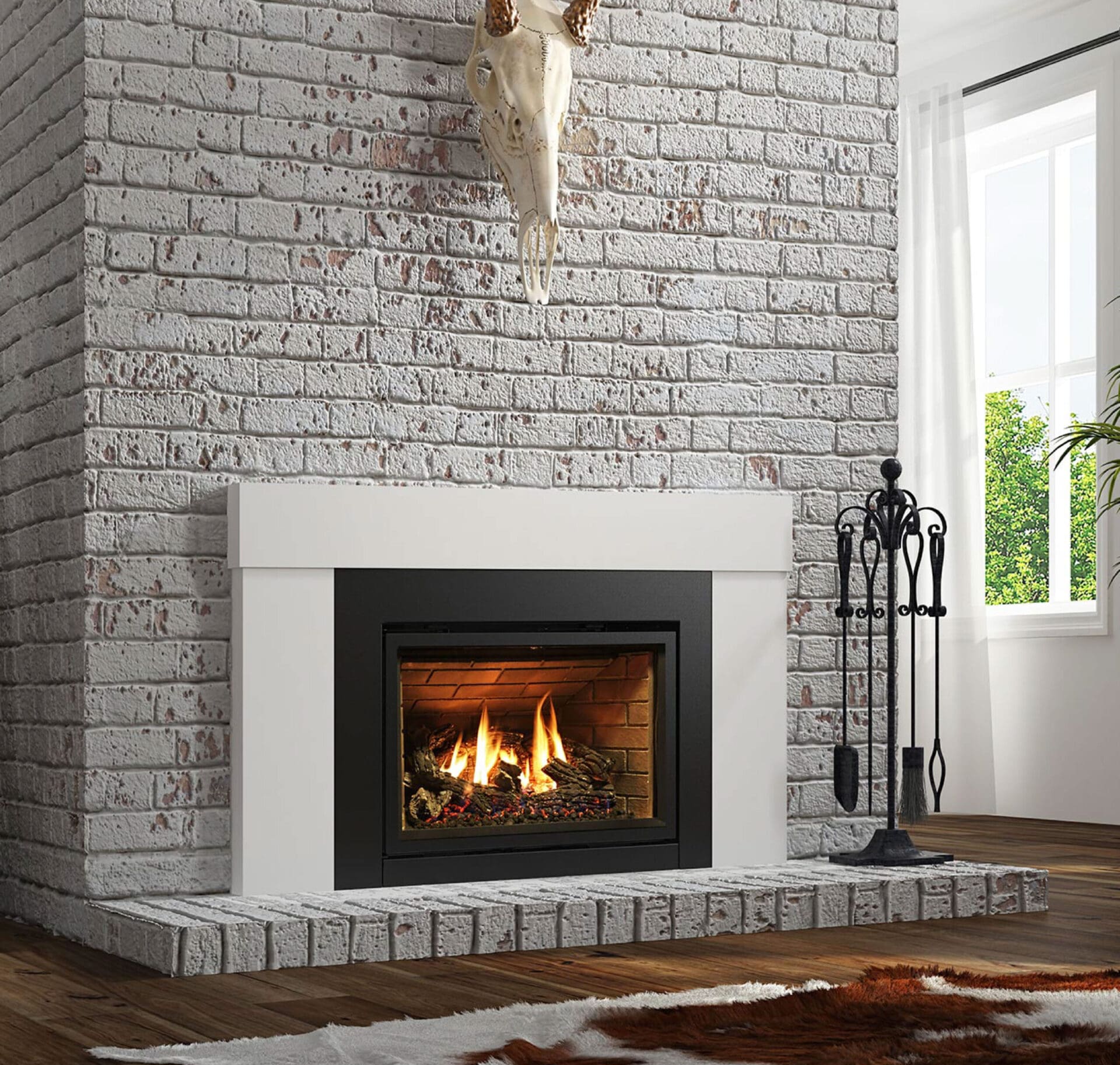 Gas Fireplace Repair
& Maintenance
Most gas fireplace manufacturers recommend annual maintenance. No matter how you use your gas fireplace, insert, or log set – your appliance will need annual maintenance. Gas appliances generate some soot and carbon, similarly to wood-burning fires. This leaves deposits in the chimney the same way, and requires cleaning. When the appliance is not active dust and insects can impede the flow of gas to components.
Here's How It Works!
Inspection & Maintenance:
Assess overall installation.
Inspect chimney vent cap and roof top components.
Clean and condition both sides of glass.
Remove and vacuum logs or other media.
Vacuum sidewalls and floor, clear burner ports.
Clean and inspect pilot safety system.
Provide maintenance recommendations.
Re-assemble fireplace with glowing embers.
Vacuum and inspect accessible fan and circulation chambers.
Check batteries and remote.
Test fire unit and record operation characteristics.
Digitally document inspection findings and provide on-site estimates for recommended repairs or improvements.
Ready to get your gas fireplace checked out? Click the button below to schedule your gas fireplace maintenance or repair.
Wood Fireplace Repair
& Maintenance
By keeping up with your annual fireplace maintenance procedures, you are helping to keep you, your family, and your home safe from unwanted house fires, and ensuring that your fire appliance is working properly. More frequent cleanings may be required depending on usage, wood type, and other contributing factors. Whether you use your open-hearth masonry fireplace, manufactured fireplace, or insert – your appliance is a candidate for an annual maintenance.
Benefits Of Fireplace Maintenance:
Allows smoke, toxins and dangerous fumes to escape your home efficiently.
Removes soot from the chimney.
Reduces dangerous creosote buildup within chimney.
What Happens At Your Fireplace Inspection:
Your service technician will examine the readily accessible portions of your chimney exterior, interior and accessible* portions of the appliance and the chimney connection. We will be looking for the basic soundness of the chimney structure and flue as well as the basic appliance installation and connections. The technician will also verify the chimney is free of obstruction and combustible deposits. It usually takes 1-3 hours for the inspection.
Inspection & Maintenance for Wood Appliance:
Assess job site.
Clean chimney cap.
Sweep chimney.
Vacuum out firebox.
Visual inspection of appliance level and roof top.
Digitally document inspection findings and provide on-site estimates for recommended repairs or improvements as needed.
Firebox Reconstruction
When moisture, age, and usage of your fireplace begin to wear away at areas of the firebox (the part of the fireplace where the fire is built), there can be some major issues that begin to form within it. Firebox damage is relatively common where issues such as: cracks / cracking, holes, and dangerous voids can form; which can greatly affects the usage, safety, and performance of your fireplace.
What's The Harm In Having A Damaged Firebox?
You likely already know that a damaged firebox can make the entire fireplace look worn down and unattractive, but the greatest harm is not aesthetics. The real danger is that these cracks and openings can be used to transfer dangerous heat, hot ash, burning embers, and toxic gases produced by the fire to walls and framing.
This can lead to problems like:
House fire
Wood rot and framing damage
Masonry deterioration
Carbon monoxide poisoning
If you suspect you have firebox damage or if an inspection with a Chimney Safety Institute of America (CSIA)-certified sweep has revealed damage, please don't use your fireplace without first making repairs. Take the time to have repairs made — for safety, comfort, and peace of mind.
Firebox Reconstruction Can Be Easy, Stress-Free & Mess-Free.
Whether your firebox has a few minor cracks and gaps here and there or you need to have the entire firebox rebuilt, we can help.
We specialize in factory-built and masonry fireplaces and provide these services:
Repair fireboxes and seal cracks, gaps, and openings.
Replace refractory panels.
Rebuild fireboxes with fresh refractory mortar and firebrick.
Ready to give your firebox a totally new look? Click the button below to get on our schedule today.
Fireplace Swap Outs
Factory-built or prefab fireplaces can make for a visually dated fireplace and living space design as time goes on and interior design trends change. They can also become unsafe to use and wasteful with heat output. With an outdated fire appliance – You may be wondering what types of improvements can be made by adding an updated fire appliance in terms of efficiency, safety, convenience, and aesthetics. Our team at the Chimney Doctors can help you find the best appliance that suits your design aesthetic and heating purposes.
When Is A Fireplace Swap Out A Good Idea?
When Is A Fireplace Swap Out A Good Idea?
We can swap out your fireplace for a new prefab fireplace that's sure to not only greatly enhance the visual appeal of your hearth and living space, but to also provide greater warmth, convenience, and efficiency than your old fireplace.
Here are a few reasons to swap out that old fireplace:
When you want a more efficient fireplace.
When you're ready for an updated look.
When repairs aren't an option.
When your fireplace is improperly installed or altered.
What is a forever fireplace? There isn't one! Styles are constantly changing, so why not spruce it up every now and then?
Feeling up for a change in your living space? Get started with your fireplace swap out by clicking the button below to schedule your appointment with our team.
Replace & Restore
Is your fireplace old? Not working like it used to? Or just needs an upgrade? Then it might be time to consider swapping out your old fireplace insert for a new one; or restore your fireplace to the incredible appliance it once was!
The Chimney Doctors team is built up with experts who have extensive experience in restoring all ages of fireplaces and chimneys.
Click the button below to book your appointment with us, and our team of pros will help bring heat back to your living space.
★ ★ ★ ★ ★
"We had our chimney cleaned this week and Robert did an excellent job. He was very kind and gave us information about how to care for the chimney/fireplace in the future! We were pleased with Robert and the company!"
- Haylee P.
★ ★ ★ ★ ★
"Excellent experience from start to finish. Was one of the best technicians I've ever worked with, his comportment and decorum was completely professional, both inside and outside of my home."
"Job well done. Will highly recommend services."
- Oscar B.
★ ★ ★ ★ ★
"After a bit of a delay, Lisa and the employees of Chimney Doctors did a SUPERB job of rectifying multiple issues with my fireplace."
"I could not be happier!!"
- Anthony P.
★ ★ ★ ★ ★
"I am very very pleased with the service, care, cleanliness, and communication this family company has provided for a vacation home I see to. 6 stars people, 6!!!!"
- Arlene S.
★ ★ ★ ★ ★
"Great customer service. Everyone is knowledgeable and gets you what you need. Won't go anywhere else."
- Wade B.
★ ★ ★ ★ ★
"Robert came out to our house this morning and was great. Used drop cloths and kept our house clean. Did an excellent job and was very polite. Highly recommend these guys."
- Jay J.