Masonry
Services, Installation and Fireplace Surrounds
Masonry Services
Moisture is on the biggest enemies to a chimney. No matter if your chimney crown is cracked or there is deterioration happening in any exterior part of the chimney, moisture can cause damage to the masonry, lining, firebox, damper, ceilings and walls in your home and more. That is why repairing your chimney is a priority.
Repairs
The top seal is usually originally put on as a cement wash. Sometimes it is a concrete splay, or even a crown. You will want to visit our crowns page for more information. Most often the top seal has been done incorrectly leading to more severe problems. A cap consists of a metal cover for the flue. Ideally it has spark arrestor mesh (which also keep animals out) and is made of a durable material like stainless steel or copper. You will want to visit our caps page for more information.
Water / Acid Damage
Water entering through the termination (cap or top seal) can cause breakage in the body from freeze expansion. At the top of the chimney this is often the cause of damage, however, lower in the body damage is usually caused from acid activity stemming from inside the flue and presenting on the surface!
We are well equipped to make repairs as slight as re-pointing, more involved like installing a crown, or quite involved like rebuilding portions depending on what your chimney needs. We can even start from scratch if want to start over too!
Don't wait!
If you are ready to get your masonry chimney inspected, click the link below to get on our schedule with our team of pros.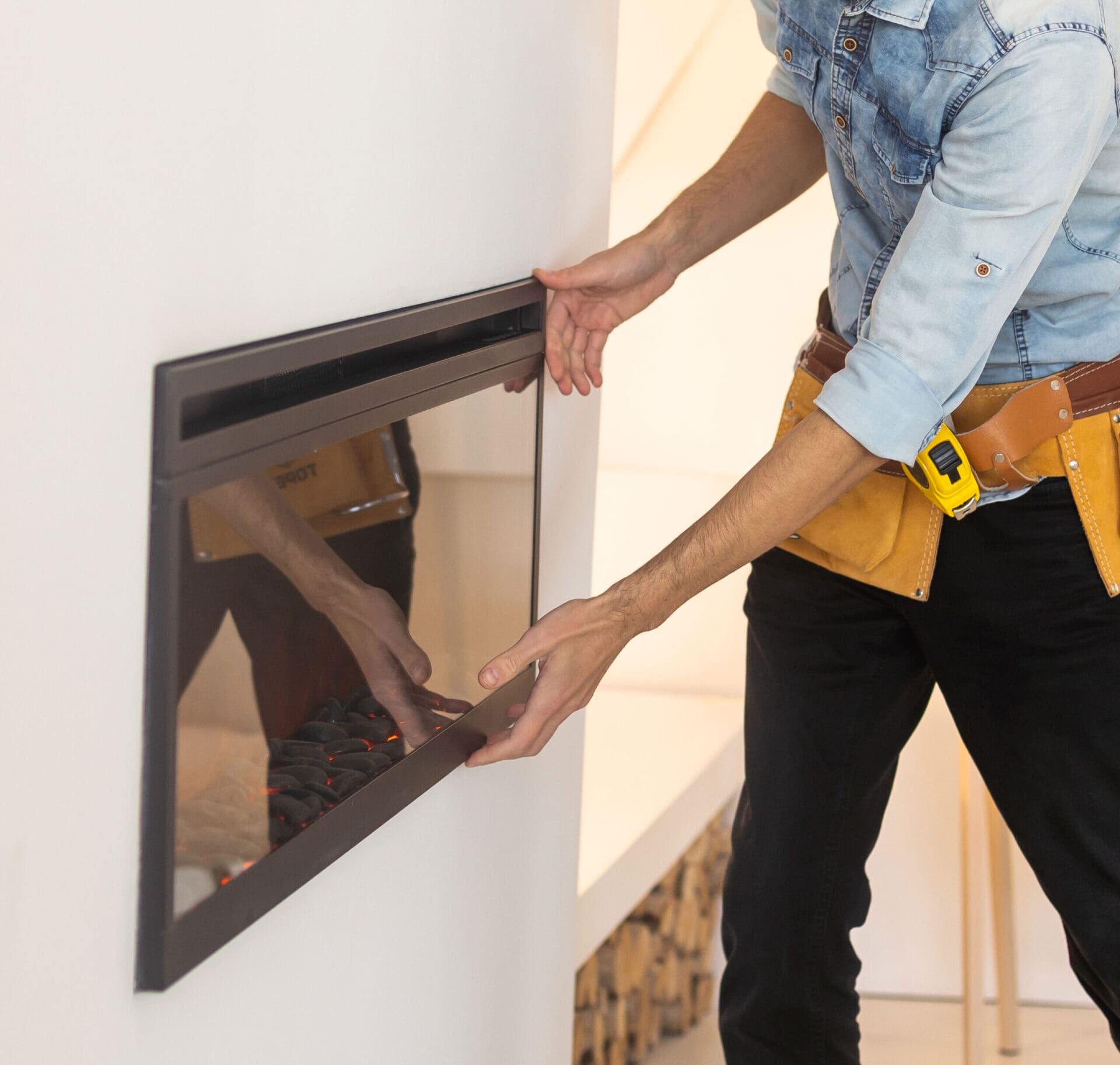 Installation
Whether you are looking to add a new fire feature to your home or are planning new construction, we will help you get the fire appliance you want in your home! Our team will walk you through the new fireplace installation process from beginning to end, and they will coach you the whole way through your journey. The Chimney Doctors sell and install new fireplaces, stoves, and log sets.
Fireplaces:
Inspection & Maintenance:
We encourage our online shoppers to stop by our showroom to meet with our friendly and knowledgeable staff. There you can explore the many options available to you by viewing our burning fireplace displays, including a variety of fuels like gas, wood and electric.
Fireplace Inserts:
Inspection & Maintenance:
If you're trying to decide whether you should install a wood, gas or electric fireplace insert as a more efficient alternative heating solution, contact our team of pros so that they can explain the differences and advise you on the best solution for your space.
Ready to get your new fire appliance installed with The Chimney Doctors? Click the button below to get a consultation with our team of certified pros.
Fireplace Surround
Does your living space feel like is missing something around your fireplace? Or are you looking to add more visual design and value to your home at the same time? Come to our show room to view the different materials we have to offer for a fireplace surround! By adding a surround to your fireplace, it can help tie in the overall design of the space to your furniture and aesthetic, while adding a little more value to your home.
Click the button below to get your consultation scheduled with the pros at The Chimney Doctors!
★ ★ ★ ★ ★
"We had our chimney cleaned this week and Robert did an excellent job. He was very kind and gave us information about how to care for the chimney/fireplace in the future! We were pleased with Robert and the company!"
- Haylee P.
★ ★ ★ ★ ★
"Excellent experience from start to finish. Was one of the best technicians I've ever worked with, his comportment and decorum was completely professional, both inside and outside of my home."
"Job well done. Will highly recommend services."
- Oscar B.
★ ★ ★ ★ ★
"After a bit of a delay, Lisa and the employees of Chimney Doctors did a SUPERB job of rectifying multiple issues with my fireplace."
"I could not be happier!!"
- Anthony P.
★ ★ ★ ★ ★
"I am very very pleased with the service, care, cleanliness, and communication this family company has provided for a vacation home I see to. 6 stars people, 6!!!!"
- Arlene S.
★ ★ ★ ★ ★
"Great customer service. Everyone is knowledgeable and gets you what you need. Won't go anywhere else."
- Wade B.
★ ★ ★ ★ ★
"Robert came out to our house this morning and was great. Used drop cloths and kept our house clean. Did an excellent job and was very polite. Highly recommend these guys."
- Jay J.